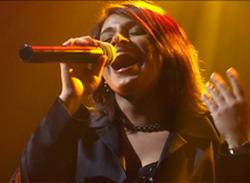 Allison - Lead Vocals
allison@parismusic.com
Allison is an original member and the centerpiece of the Paris orchestra. Few female vocalists can come close to her range, vocal phrasing and energy. All songs that Allison sings are in the ORIGINAL key. This is quite remarkable when you consider that Paris performs songs originally recorded by such greats as: Celine Dion, Mariah Carey, Aretha Franklin, Whitney Houston and Barbara Streisand. No wonder, Allison is the daughter of famed 50's-60's pop singer, Johnny Halo, who recorded such hits as: "Little Annie", "Even The Blue Bird's Are Blue" and "More Lovin' Less Talkin". In addition, Allison possesses a B.A. in Musical Theatre from Wagner College. Every time Paris performs at an affair, someone always asks us "How does that incredible voice come out of such a little person". Allison is truly an amazing and talented performer.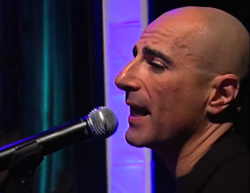 Vito - Lead Vocals, Percussion
vito@parismusic.com
When Vito joined Paris in 1999, it was originally planned to only offer him as an option to our Italian clients because of his ability to perfectly sing and emcee in Italian. It soon became apparent that his value to Paris would be much more than his intended role. A veteran singer, Vito is the perfect compliment to Allison and Richy. His high tenor voice enables him to sing songs many other male vocalists will not even touch. He effortlessly performs songs like "Lady in Red," "Unchained Melody" and "September." With Vito in the band, Paris performs Italian favorites such as "Piccolo Fiore," "Ti Amo"; and along with Allison, the duet "Vivo Per Lei." Vito loves to get out there and energize the crowd. For all these reasons, Vito is now a permanent, integral part of Paris.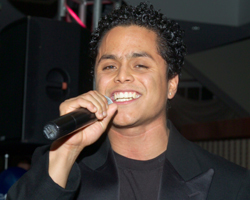 Richy - Lead Vocals, Percussion, Bass
richy@parismusic.com
Richy is the newest member of Paris having joined the band in the summer of 2004. Richy brings a wealth of talent and musical experience to Paris. While living in Columbia, South America, Richy attended both the Valdiri music school and the musical conservatory of Cali to study Latin rhythms and vocal training. He recently graduated from Queens Community College with an associates degree in performing arts and is currently working to finish his bachelors at Queens College. Richy is the son of Oscar Rizo, a very successful salsa recording artist from the late 80's and early 90's. He recorded 3 top selling albums, released in South & Central America, with BMG records. His is best known for his hit songs: "Me Pongo Celoso" & "Sonero del Barrio". Richy may look familiar to some of you. In 2003, he was a contestant for "American Idol" and reached far into the competition before leaving in one of the very last cuts. As a member of Paris, Richy regularly performs songs originally recorded by Marvin Gaye, Luis Miguel, Boyz II Men, TKA and his favorite, Stevie Wonder. In addition, he also performs songs from many contemporary artists such as Marc Anthony, Nick Lachey, Rupee and Kevin Little. Having Richy in the band also allows Paris to play authentic meringue & salsa music. Richy brings a high level of excitement and youthful enthusiasm to each and every Paris performance.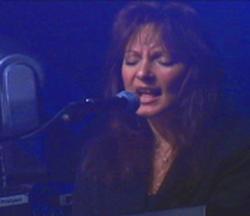 Robyn - Keyboards, Vocals, Musical Director
robyn@parismusic.com
The truth is, there would not be a Paris without original member and co-founder Robyn! Besides being the keyboard player, Robyn's main role in Paris is that of musical director responsible for writing all band charts and arrangements. There is not a note, sung or played, that Robyn doesn't know about. This expertise comes from the fact that Robyn has been playing piano since she's 4 years old and is jazz & classically trained possessing a B.A. in musical performance. In addition, Robyn is an accomplished song writer having written songs for some very popular T.V. shows such as "Access Hollywood", "America's Most Wanted", The Morning Show with Mike & Juliet", "Dateline" and "MTV". Robyn's motivation for starting Paris was to get away from the tired philosophy of most wedding bands that disregards the sound and energy of the original recording. Says Robyn "There's nothing worse than performing a song that doesn't resemble the original".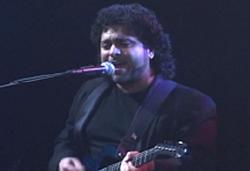 Gus - Guitar, Lead Vocals
gus@parismusic.com
Gus is one of the four original members of Paris. Before joining the band, Gus fronted a few rock bands as guitarist and lead singer. Besides his guitar playing duties and being the main background vocalist, Gus sings lead on a select group of songs for Paris. This includes songs originally performed by Billy Joel, Bryan Adams, Van Morrison and other popular rock singers. Gus also does a great imitation of Italian singer, Toto Cutugno. Gus comes from a talented family. His father, Panagiotis Sarikas, was a renowned bouzouki player and composer of Greek music. His mother Maria, under her stage name of "Marisa," has released several albums including her current CD which has reached the level of 4 gold records in Greece. In addition to singing and speaking fluently in his native Greek, Gus has the ability to also sing in Italian, Spanish, Hebrew and Armenian.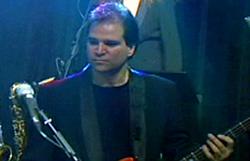 Mike - Bass, Vocals
mike@parismusic.com
Mike is an original member and co-founder of Paris along with Robyn. The two have been playing together in various musical situations since 1986. It was in 1991 that the two decided that they were tired working in the then current environment of wedding bands and started Paris. Before that, Mike was part of a local original rock band called "May Orbit" that reached moderate success opening for main acts such as "Richie Blackmore," "Zebra" and "The David Peel Band." Mike also was a popular choice of many local musicians to play bass on their studio recordings and demos. "Forming Paris with Robyn has turned out to be a great experience especially working with the people we have" says Mike. "I really love playing weddings. You get to play all kinds of music and have a lot of fun doing it !!"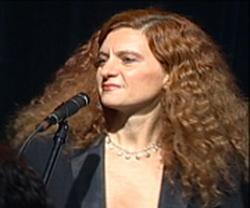 Cecilia - Saxophone, Clarinet, Flute, Vocals
cecilia@parismusic.com
Cecilia is the most experienced member of Paris having performed with an impressive list of artists which include: Herbie Mann, Bette Middler, Manhattan Transfer, Vicki Sue Robinson, Eddie Martinez and Frank Colon. She has played around the world at various music events such as the New Orleans Jazz Festival, Stockholm Water Festival (Sweden) and the Villena Jazz Festival (Spain) just to name a few. Cecilia has earned several music degrees that include a diploma (cum laude) at Berklee College of Music in Boston with a major in film scoring in addition to a master's degree in jazz performance obtained at City College of New York. In 2001, Cecilia released her own CD "Amazon Lily" which has been critically acclaimed in jazz quarters in the U.S.A. as well as in her native Argentina.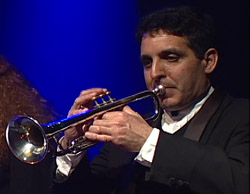 Ronnie - Trumpet, Vocals
ronnie@parismusic.com
There's never a dull moment with Ronnie in the band. Ronnie's main responsibility in Paris, besides playing trumpet, is to keep the band loose and provide comic relief. It didn't start out that way, he just sort of grew into the role. Ronnie's light hearted approach to playing music helps keep it fun for the rest of us and entertaining for the guests. On the practical side, Ronnie has a degree in musical composition and performance. Before joining Paris in 1997, he was with "The Changing Times", a popular New York Wedding band, for 14 years. Together, Ronnie and Cecilia form one of the most robust, full sounding horn sections in the business. This is especially apparent when the band plays Latin, Big Band, Motown and Classic Disco music.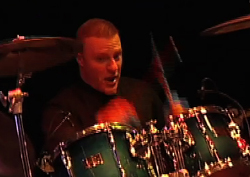 Lou - Drums, Percussion
lou@parismusic.com
Lou, like Cecilia, has tremendous international musical experience performing with the Amsterdam Holland Orchestra, which toured all of Northern Europe and Russia in 2003 & 2004. He gained valuable experience while playing on Holland America & Norwegian cruise lines traveling to Hawaii, Florida, Mexico and the Bahamas. During which time, Lou was part of all kinds off Broadway & Vegas style musical productions. In addition, he performed in shows that featured R&B, Big Band, 70's Disco, Classic Rock, Country, Reggae, Oldies, Jazz/Funk and traditional Ethnic music. It wasn't long before Lou was promoted to Norwegian Cruise Lines' top show-band, backing up numerous guest performers including Motown Star Eddie Holman and entertainer David Wilcox. Lou has studied drum & percussion theory with Scott Foley, Richie Rodriguez, Jenny Zepnick and worldwide clinician, Dom Famularo. Lou's versatility and experience allowed him to join Paris in 2006 and immediately become an instrumental and vital part of the bands' solid, energetic rhythm section.

PRO SHO SOUND - Exclusive Sound Company for Paris
www.proshoevents.com
Paris always uses a state-of-the-art sound system provided and maintained by a full service sound company based in Staten Island called PRO SHO SOUND PRODUCTIONS. The Pro Sho crews responsibilities are to transport and setup the sound equipment, mix the bands audio and monitor sound levels for each performance. Our sound system can be configured to accommodate any size room and number of guests. In the sound reinforcement industry since 1990, Pro Sho Sound has built a reputation for top quality performance, dependability and professionalism. Recently, the company has branched out into other areas which include lighting and video production which are available as options for your affair. Pro Sho stages all types of events which include weddings, corporate functions, political events and full spectrum concerts. No matter what the event, Pro Sho has maintained a high level for not only Paris, but all their clients.